Ball Mounts By Curt MFG –  Each person and family has a different set of interests and needs.  That is why CURT offers a wide variety of ball mount options, giving you the exact fit for your vehicle, trailer and lifestyle.
Many of our ball mounts are CNC-formed and robotically welded right here in the USA for the utmost accuracy and cleanest weld lines possible.  After construction, they undergo a mechanical descaling process that creates a flawless surface for the application of our highly durable Bonderite® coating and powder coat finish.  These two coats cure together to form a protective surface that is superior in rust, chip and UV protection.
How to Select a Ball Mount
When choosing a ball mount for your vehicle and trailer setup, you should consider three things: shank size, weight capacity and drop / rise.
The shank size of the ball mount must match the receiver tube size of your trailer hitch. There are four standard sizes of receiver tubes: 1 1/4", 2", 2 1/2" and 3". If the shank and receiver tube do not match, a receiver tube adapter will be needed.
Once the shank size is determined, you must consider the weight capacity of your vehicle as determined by the manufacturer, as well as the gross weight of the trailer you'll be towing.  The ball mount you select should meet or exceed the weight ratings of your vehicle and trailer hitch so it does not limit your overall towing capacity.  It is also vital that the weight of your trailer does not exceed the rating of the ball mount.
Finally, it is important to determine the amount of drop or rise your trailer requires.  Drop or rise is the amount of height difference between the trailer and your tow vehicle, whether that difference is positive (rise) or negative (drop).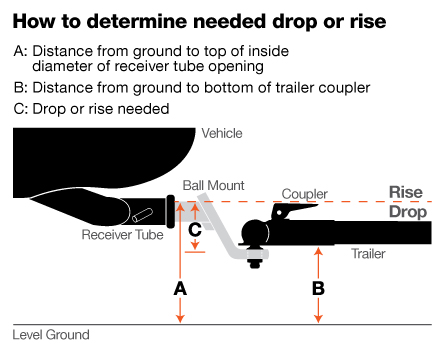 This diagram offers a quick explanation for how to determine your needed drop or rise. Take the distance from the ground to the top of the inside of your receiver tube opening (A), and subtract it from the distance from the ground to the bottom of the trailer coupler (B). B minus A equals C, the drop or rise.
With weight capacity in mind and the amount of drop or rise determined, the only thing left to do is choose a trailer ball.  Many of our ball mount options come with a trailer ball already attached but some will require you to purchase the correct trailer ball to complement your ball mount and meet your towing needs. Remember, when selecting a trailer ball, choose one with a shank that will fit your ball mount. If a trailer ball shank is too small, we also carry a number of reducer bushings that can accommodate smaller trailer balls.
CURT ball mounts are available with 1 1/4″, 2″, 2 1/2″ and 3″ shanks. We offer everything from standard ball mounts to specialized ball mounts, such as our patented adjustable channel mounts. From camping trips to commercial jobs, CURT offers a reliable connection.
Discount Hitch & Truck Accessories offers Ball Mounts of every kind for your specific needs.  Call or stop by one of our locations for more info!