Sway Control – Learn More
Trailer sway, can start small, but if it is not quickly managed, it can turn into a disaster. A trailer can begin to sway back and forth for various reasons, typically when it is pushed by the wind. Whatever the case, trailer sway need not be threat to your driving.

A unit is an inexpensive solution to the problem of trailer sway.  CURT kits are designed to attach to your vehicle and trailer at the coupling point and counteract any lateral movement in your trailer, keeping your vehicle and trailer straighter on the road and giving you better control.
The unit uses an abrasive material like that used in brake pads to provide the necessary resistance while still allowing your vehicle to complete proper turns with your trailer attached.  The unit mounts onto the frame of your trailer and connects to the vehicle's ball mount using a separate trailer ball.
CURT sway controls are adjustable and easy to install.  They come with a unit, a trailer-mounted attachment ball, a hitch-mounted attachment ball, a weld-on tab, a mount reinforcement plate and attachment clips.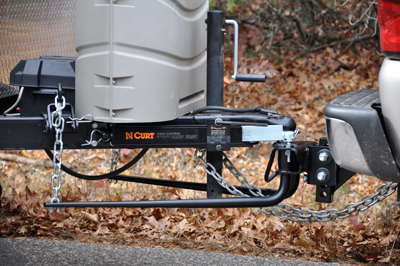 Although a weight distribution hitch is not designed to control trailer sway on its own, CURT weight distribution hitches are made to be combined with a unit and many are available with the unit included for a complete kit. CURT also carries ball mounts that are specially designed to work with a sway control kit, having a sway tab welded right onto the ball mount platform.
We recommend using a sway control any time you are towing a heavier load. While one sway control kit can be sufficient to help correct the problem, two units are recommended for maximum control and stability. CURT also carries a number of replacement parts and accessories to make sure your needs are met. It does not take much to start your trailer swaying. Stop sway in its tracks and make your towing ride as smooth as possible with a CURT sway